Loose, Lively and Lush: Conquering ' Less is More' by CTWS Artist Cheryle Chapline
Ever want to loosen up those brush strokes and use less instead of more of them ... and, have a better, fresher result for all of your effort? We will be tackling this seemingly 'hard to conquer' approach to painting during for our February monthly meeting with Cheryle Chapline at the helm.
Bring all of your normal watercolor supplies with the addition of your medium and larges sized 'Loosey Goosey' brushes, Stripers, Riggers, Swords, traditional Chinese brushes and/or Squirrel Brushes. If you don't have these or something similar ... or don't know what they are (they are all brushes!) ... no worries. We're a sharing bunch.
Fresh, moist paint is a must! Reference material should be of a multicolored object(s), i.e., a fluffy or feathery animal, a loose bouquet of flowers ... things with loose edges, etc. If you don't have your own reference material (live and/orphotos), some will be available (photo) ... so watch for an email the week before the meeting that will have it attached.
Regardless of you using your own reference or that provided, please do make the effort to pre-draw prior to the meeting. The drawing should not be greatly detailed ... in fact, the only detail needed will be at the focal point. Here's to Loosening Up!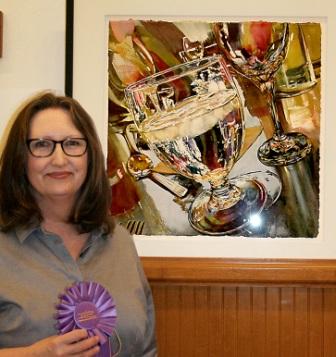 Cheryle Chapline is a fine artist, graphic designer and digital media artist.
Her painting, Waterline Dance, was accepted in the National Watercolor Society's 97th International Show, 2017.
It has been featured in Splash 17, and The Best in Watercolor.
Juror Janet Rogers rated it Best in Show in the Central Texas Watercolor Society exhibit.
Examples of Chapline's work may be found at http://www.cherylechapline.com/
March 14 - Watercolor Portraits presented by Court Bailey - http://www.courtbaileyfineart.com/
Date: February 14, 2018
Time: 9 a.m. until 3 p.m.

The Episcopal Church of the Holy Spirit
1624 Wooded Acres
Waco, Texas

No charge for First Time Attendees
For further information:

Central Texas Watercolor Society:

Monthly Program: Franke Oliver
Email: frankye@hot.rr.com

Membership Contact: Jamie Valigura
Email: jvtexas66@aol.com

Publicity: Judith Vernon
Email: ctwspublicity@gmail.com